The Chariot Tarot paintings
---
Keywords: Determination. Spirit dominates form. Willpower, honor... energy... discipline... victory.
Aural associations
The music of this Tarot card. Please note: The titles of the selected songs are irrelevant, it is about the vibrations of the music compared to the vibrations of the card. These are personal choices.
Hans Zimmer – Why Do We Fall
Hans Zimmer – You Go, We Go
Shigeru Umebayashi – Farewell No. 2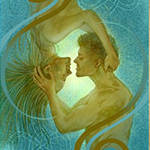 Previous card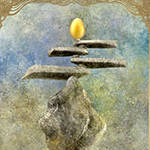 Next card
---
Prints are available.
Send an inquiry directly to the artist:
---

☐
High quality, museum-grade prints.
✔
Safely packaged.
✈
International shipping available.