Judgment/Judgement Tarot paintings
---
Keywords: Judgment/rebirth... "resurrection of the dead", astral transformation... but also accepting and clearing of the past... renewal/new beginning...
Aural associations
The music of this Tarot card. Please note: The titles of the selected songs are irrelevant, it is about the vibrations of the music compared to the vibrations of the card. These are personal choices.

John Williams – Palpatine's Teachings
Klaus Schulze – Echoes of Time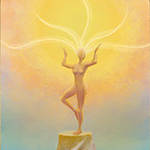 Previous card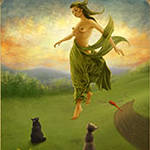 Next card
---
Prints are available.
Send an inquiry directly to the artist:
---

☐
High quality, museum-grade prints.
✔
Safely packaged.
✈
International shipping available.