Arrivals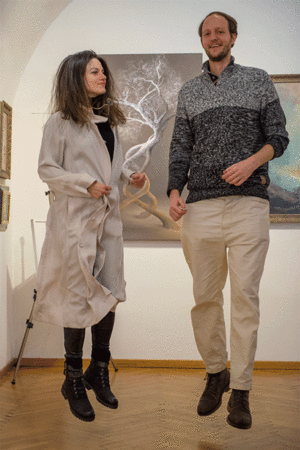 Gilles arrives about an hour before the opening. That's the first time I see him since December 2013, when he came to Vienna to do an interview with me. He is still a giant. I appreciate his inquisitive and critical, yet also poetic mind. We talk, we hover for a bit, we have hoversations. That's one of Gilles' newly coined words.
Azur arrives. I run and jump him and nobody takes a photo. This is mentioned several times later on, as it was evidently a very high jump (he is also very tall). We decide that a lack of photographic evidence may be a good thing. It allows us to poetically delude ourselves and indefinitely increase the height of this jump in our minds. That has to be a good thing.
My father arrives, young people, students, various friends and artists, the gallery is slowly filling up.
I do my best to notice and personally greet everyone.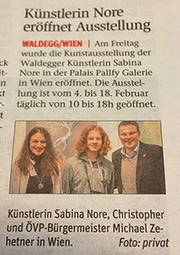 An art lover and collector who was not likely to be in Austria that day is standing in front of me. He looks happy. We agree to meet in the following days when there are not quite as many people around.
The mayor of the region where we live has also come. Some time later we pose for a few pictures, one of them ends up in the local newspaper.
An older lady wants to know more about how I painted "Portrait II". She is also an artist, she says. I start explaining that particular technique. As I turn, I see a young shining face which asks me if she can pay in installments, she wants to buy "Portrait II". I tell her she can. She is happy, so am I. I greet a few more people, a friend approaches me and says she wants to buy "Portrait I". I get the red stickers and place them on the corresponding labels.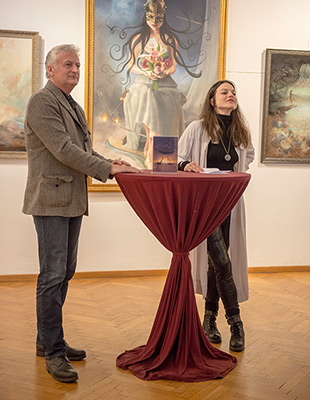 Erich Peischl, the museum and gallery director, suggests we start with the opening speech.
The Speech
He begins, as it is customary, then he invites me to talk a bit about my artworks. I explain that I don't have much to say about my artworks, as I hope that they speak for themselves.
Instead of a smooth, artsy speech, I extend my thanks to several specific people, wish everyone a great time at the exhibit and invite all to freely approach me with any questions.
Later on, I am being lovingly criticized by an artist friend for not properly preparing for this part. I need more words, she says. No. She insists! And, I should have asked someone to speak about me.
I promise to do better next time.
☯
The vernissage continues for a few more hours. Some leave, some arrive, some stay for a long time.